R900 Crusher Overview
The Rockster R900 crusher is an innovative, high-performance mobile crushing plant that provides superior performance in various crushing applications. With its intuitive and user-friendly controls, the Rockster R900 allows operators to adjust the settings and specifications to meet specific requirements easily.
As a result, this versatile machine can be used for primary, secondary, and tertiary applications across various industries, such as demolition and recycling. Thanks to its robust hybrid drive system and low-emissions engine, the Rockster R900 offers outstanding fuel efficiency without compromising on power output or productivity.
R900 Track-Mounted Impact Crusher 
Pros and Cons
The Rockster R900 crusher is a high-quality and durable machine that can easily handle most jobs. However, there are some key pros and cons before making a purchase. Let's take a closer look at each of them:
Positive
The Rockster R900 crusher is a reliable and efficient workhorse with a high throughput capacity.
 It has a low fuel consumption with an advanced engine management system.
Its mobility allows it to be deployed quickly and flexibly, making it ideal for short-term projects or effortlessly relocating it to different sites.
It features a remote monitoring system that allows high-performance optimization and easy troubleshooting in case of any issues.
Its low maintenance costs reduce operational expenses over the long term.
Negatives
The Rockster R900 crusher is bulky and heavy, making transportation difficult and costly.
It has limited versatility due to its specialized jaw crusher design and cannot process certain materials that other crushers can handle.
The unit's high price tag limits its accessibility for smaller businesses or those on tighter budgets.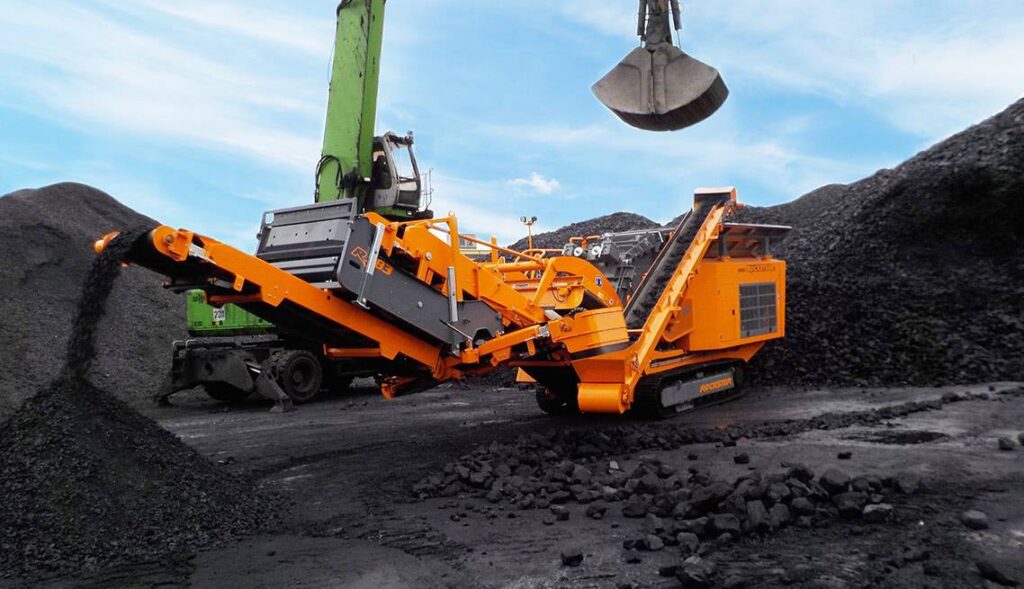 R900 Impact Crusher 
Specification for Jaw Crusher
The Rockster R900 crusher is a professional rock-crushing machine that can be used to crush various kinds of rocks. It has several specifications, including the following:
| SPEC | |
| --- | --- |
| Operating weight: | 25.2 t |
| Crusher opening length: | 0.9 m |
| Crusher opening width: | 0.72 m |
| Transport width: | 2.5 m |
| Transport length: | 9.6 m |
| Transport height: | 3.2 m |
| Plant type: | RM |
| Drive: | D/Hy |
| Silo capacity: | 4 m³ |
| Crusher type: | PB |
| Drive power: | 210 kW |
R900 Track-Mounted Impact Crusher 
Jaw Crusher Features
The Rockster R900 Crusher is ideal for businesses and individuals looking for a high-performance crushing solution. This state-of-the-art crusher is equipped with a patented Duplex system, which allows the machine to be operated in either open or closed circuit configuration. This feature allows users to get maximum output from their material.
The R900 also includes an exchangeable impact crusher unit that can be quickly interchanged for even more versatility. Furthermore, its robust construction ensures reliable operation and reduced downtime, making it perfect for any demanding environment. Finally, its user-friendly design allows easy maintenance and control of all components, maximizing efficiency and productivity. All these features combine to make the Rockstar R900 Crusher the perfect solution for any production site.
R900 Crusher 
Jaw Crusher Working Principle
The Rockster R900 crusher is a robust and reliable machine with an impressive working principle. It is based on interlocking crushing plates attached to two rotors, which rotate in opposite directions. This rotation creates a powerful centrifugal force, allowing the materials to be broken down into smaller pieces at high speed.
The R900 uses an advanced hydraulic system to ensure smooth operation and maximum efficiency. The unique design enables the crusher to process large volumes of material quickly and efficiently. Once materials enter the crusher chamber, two counter-rotating crushing plates break them down into manageable sizes suitable for further processing. The resulting material can then be reused as aggregate or recycled for other purposes.
This high-performance mobile crusher is capable of crushing and screening the most difficult materials, including natural stones and demolition debris. The Rockster R900 crusher can process a wide range of materials, such as asphalt, concrete, glass, slag, brick, and ceramics. It also can process limestone gravels and hard rock with high hardness values of up to 450 MPA. Besides, it can crush dolomite sandstone which requires special attention due to its abrasiveness.
No matter what material is being processed, the Rockster R900 has been designed with durable wear parts that offer exceptional performance over time.
Rockster R900 Impact Crusher 
User-friendly and Safe 
The Rockster R900 crusher is a versatile and user-friendly mobile crushing unit. Its intuitive design makes it easy to operate and maintain, making it an ideal choice for any company looking for reliable performance.
Not only does the Rockster R900 provide superior performance, but it also comes with safety features built in. The crusher includes advanced protection systems that keep personnel from moving parts while allowing easy access when necessary. In addition, the machine can be equipped with an optional overband magnet and dust suppression kit to reduce environmental impact during operation.
The Rockster R900 offers a great combination of efficient performance and user-friendly operation. It's the perfect solution for any business looking for a dependable and cost-effective crusher.
Rockster R900 Impact Crusher 
Compact Design & Workload
The Rockster R900 is a powerful, compact crusher that provides maximum performance and reliability in challenging environments. This model features an efficient design that reduces downtime and increases productivity, making it an ideal choice for any job site or construction project.
The Rockster R900 has a high-performance impactor that ensures fast crushing with minimal wear and tear on the equipment. Its unique design allows for easy maintenance, allowing operators to get up and running quickly. The machine's lightweight frame makes it easy to transport from one location to another without sacrificing performance. Additionally, its low energy consumption helps reduce operating costs while providing reliable performance over long periods.
The Rockster R900 provides an excellent solution for a powerful but compact crusher with high workload capabilities. Whether you are hosting a demolition or recycling project, this powerful rock-crushing equipment is a must-have.
Rockster R900
Summary 
The Rockster R900 crusher has been hailed as a game changer in the rock-crushing industry. The innovative features of this machine have earned it high praise from both users and editors alike. Relying on its superior power, fuel efficiency, and intuitive design, users have found the R900 to be a more effective way to manage large-scale projects than any other crusher in its class.
Editors from major construction journals were equally impressed with the device, noting that its robustness and reliable performance make it an ideal choice for challenging conditions. It also boasts a low cost of ownership, making it competitively priced with other leading models today. For those searching for a top-notch machine that can stand up to demanding workloads without breaking their budget, the Rockster R900 is an excellent option.

R900 Track-Mounted Impact Crusher