Portable jaw crushers are becoming increasingly popular in construction and mining due to their increased mobility, ease of use, and cost-effectiveness. With various models and sizes available on the market, it can take time to determine the best portable jaw crusher for your needs. In this article, we will discuss the advantages and disadvantages of different types of portable jaw crushers so that you can make an informed decision when choosing the right one for you. Let's get started!
K-JC704 Portable Jaw Crusher
Komplet – #1 of the Best Portable Jaw Crushers
K-JC704 Overview K-JC704 Mobile Jaw Crusher works well as a piece of equipment to break down large amounts of …
Portable jaw crushers are an innovative and efficient solution for industrial, mining, and quarrying applications. These machines have a powerful engine and two sturdy jaws, one fixed and the other moving back and forth to crush materials. They can be used to reduce the size of rocks, ore, concrete, and other materials into smaller pieces that can then be separated more easily.
The primary function of mobile jaw crushers is to crush large objects into smaller pieces that can then be transported more conveniently. The machine applies pressure between two plates on either side of the crushed object. When one plate is moved toward another stationary plate, it compresses the material between them, forcing them apart and reducing their size. This process is repeated until the desired size is achieved.
The Komplet K-JC704 portable jaw crusher is among the best crushers on the market. It is designed to handle even the toughest jobs and can crush various materials, from hard rock to asphalt. Its powerful motor and easy maneuverability make it ideal for crushing in tight spaces or large worksites. The K-JC704 has an advanced hydraulic system that makes it easier to operate than others on the market.
This portable jaw crusher has a robust design that makes it reliable and durable, even when subjected to harsh conditions or extended use. With features like automatic shutdown protection, auto reverse crushing action, and overload protection, operators can rest assured that their machines will be safe and efficient while running. The K-JC704 also utilizes advanced technology, such as intelligent load sensing, which helps maximize productivity by automatically adjusting output based on the processed material type.
Here are the primary pros and cons of this machine to help you make a more informed decision:
Positive
High-quality materials used in constructing the K-JC704 Mobile Jaw Crusher provide a durable crusher that will last many years.
The large feed opening and advanced jaw design make it easy to handle larger material sizes and reduce the overall cost per ton.
Easy to operate and maintain, with minimal downtime for maintenance operations.
Advanced safety technology makes it a safe choice for any job site environment.
Highly efficient operation, producing more products in less time with fewer resources than other crushers on the market.
Negatives
Higher upfront costs than some competitors may make it prohibitively expensive for some buyers or businesses.
A large size may be too large or cumbersome for specific job sites or applications.
Limited power output may not be suitable for specific applications requiring higher crushing forces or throughputs than what can be provided by the K-JC704.
In conclusion, the K-JC704 Portable Jaw Crusher is one of the most reliable machines on the market. It offers multiple features and benefits, making it an ideal choice for mining and construction applications. The advanced engineering design ensures safe operation and high efficiency. The crusher is easy to transport and can be quickly set up on-site with minimal effort. The robust design ensures durability and maximizes productivity and profitability.
WJC-2844 – Portable Jaw Crusher
IROCK- #2 of the Best Portable Jaw Crushers
Portable jaw crushers are a popular choice for processing raw materials in many industries. Their compact size and lightweight design provide a powerful solution to working with large materials in remote locations. Portable jaw crushers can now process various raw materials, including metals like steel, concrete, asphalt, gravel, and more. They can also crush different stones, such as limestone and granite.
Portable jaw crushers combine high-powered crushing force with mobility unmatched by any other type of crusher on the market. This mobility makes them ideal for processing material in difficult-to-reach areas or job sites where space is limited. Portable jaw crushers use hydraulics and engines to power the crushing jaws, which apply force onto the material being processed.
If you are in the market for new rock-crushing equipment, then the WJC-2844 Portable Jaw Crusher is perfect for multiple construction and recycling projects. This mobile crusher offers high performance, low maintenance costs, and easy operation. The WJC-2844 can easily be transported from site to site thanks to its lightweight design and powerful engine. It's capable of crushing up to 400 tons of material per hour, making it a great choice for busy projects with tight deadlines. Additionally, operators will benefit from the intuitive control panel that makes it easy to set up and operate the machine quickly.
This highly efficient jaw crusher features several innovative components to enhance productivity and reduce downtime. Its robust steel frame is designed to withstand harsh work environments while providing superior fuel economy over similar machines in its class. It also features an adjustable discharge conveyor that allows operators to customize their output according to job requirements.
Here is a breakdown of the most significant advantages and downsides of this machine:
Positive
Portable and lightweight design makes it easy to move and transport.
Long-lasting jaw crusher is built with extreme durability for demanding projects.
Low cost of maintenance due to its simple construction.
High output with low energy consumption due to an efficient crushing mechanism.
Versatile and can be used in different materials, from sand, gravel, stones, etc.
Negatives
Limited capacity compared to stationary jaw crushers.
Produces more dust than stationary jaw crushers as the material has to be moved around more often before being crushed.
Slower production rate than larger models due to lower power output engine size and weight restrictions on the machine's mobility.
Not suitable for larger pieces of material requiring a more considerable crushing force than this model can provide.
It may have trouble adapting to heavier materials.
Overall, the IROCK WJC-2844 Portable Jaw Crusher is a reliable, efficient, and powerful machine that can handle any job that needs to be done. Its versatility and portability make it the perfect choice for any construction or demolition project. Its features, such as a vibratory feeder, optimized toggle system, automatic lubrication system, and rigid frames, make it an even more attractive option. The lifetime of the machine is significantly increased by its robustness and durability.
JC1030P Portable Jaw Crusher
Westpro – #3 of the Best Portable Jaw Crushers
Portable jaw crushers are a versatile and powerful tool used in the construction industry. These machines are ideal for projects that require quick setup and mobility, such as mining operations, demolition sites, and road construction. Portable jaw crushers can be moved around easily and quickly, placing them closer to the job site than traditional stationary equipment.
The portability of portable jaw crushers makes them an asset for any contractor or a project manager looking to reduce operating costs without sacrificing quality or productivity. These machines offer a variety of features that make them ideal for many applications, including quarrying, mining, demolition work, road construction, and more. In addition to their convenience and versatility, portable jaw crushers are also known for their low cost of operation when compared with other types of crushing equipment.
Portable jaw crushers are becoming increasingly popular among quarry owners, construction firms, and mining operations. JC1030P is a mobile jaw crusher worth investing in for its versatility. Its small size allows it to be easily transported from one job site to another, making it ideal for the tight spaces of quarries and mines. Similarly, this mobile crusher can be used as a primary or secondary crushing plant with a power source at any location.
The Westpro JC1030P also stands out from other models due to its superior crushing capabilities and efficiency. It features an impressive processing capacity of up to 150-220 tons per hour, making it well-suited for medium-sized projects. Additionally, it has been designed with optimized performance parameters to ensure lower fuel consumption while allowing peak productivity simultaneously.
Let's take a glance at the main advantages and disadvantages of Westpro JC1030P:
Positive
The JC1030P portable jaw crusher is highly efficient and can help save time and money.
It is easy to use, requiring minimal setup and maintenance.
It has a large hopper capacity, allowing it to process more material in fewer cycles.
Its adjustable jaw crusher settings make it versatile, enabling it to easily handle different types of materials.
Its portability makes it ideal for on-site operations requiring frequent relocation or equipment movement.
Negatives
The JC1030P may have a high initial cost which could deter some potential buyers from investing in the product.
The compact size of the machine may limit its capacity to process larger material sizes at once compared to larger stationary jaw crushers.
Obtaining replacement parts or servicing the equipment could be difficult due to its mobility and the limited availability of suppliers who stock them.
To sum up, the JC1030P Portable Jaw Crusher is an excellent tool for businesses looking to increase their efficiency. Its compact design, low operating costs, and impressive output are ideal for any project at hand. Furthermore, the easy installation and transportability of the machine make it a great option for anyone needing a reliable mobile crusher. The JC1030P Portable Jaw Crusher is highly recommended as a cost-effective solution providing years of service with minimal downtime.
Portable Crusher CRJ3042Cedarapids® – #4 of the Best Portable Jaw Crushers
The main benefit of portable jaw crushers is that they can be easily transported from one job site to another, making them ideal for contractors who may need to work in remote locations or have multiple projects running concurrently in different areas. With the ability to reduce material sizes quickly and efficiently on-site, operators can save time and money by reducing trips out to purchase new materials or having to move large quantities of material off-site for processing.
The Cedarapids CRJ3042 Portable Jaw Crusher is an excellent choice for the producer that requires quick setup and mobility with a medium size jaw plant. This plant features a hydraulic wedge adjustment, hydraulic tension rod, and electric motor drive. The powerful CAT C9 350 HP engine and its heavy-duty tracked undercarriage ensure high mobility and strength in any terrain.
This 30″ x 42″ portable jaw crusher has many applications for quarrying, mining, recycling, and demolition projects. Due to its robust construction, it can handle almost any material regardless of hardness or abrasiveness. This machine also includes the optional tramp iron relief system that eliminates bridging issues normally encountered by other equipment in this class. The result is increased production efficiency with less downtime.
Here is a list of the pros and cons of this machine:
Positive
Its portable design allows the operator to efficiently transport and operate it on-site.
It has a large feed opening for larger material sizes, allowing for increased throughput.
It features an advanced hydraulic toggle system that optimizes crushing performance and reduces operating costs.
It has a heavy-duty fabricated frame with reinforced stress points for improved durability and reliability.
Its non-stop mechanical wedge adjustment system ensures easy setup and maintenance.
Negatives
The machine is expensive to purchase and maintain over time due to its advanced technology and construction materials.
Its size can limit access to certain sites or job locations, requiring specific equipment adaptations for operation under challenging conditions or environments.
Parts availability can be limited due to its specialized design specific to Cedarapids products only, preventing compatibility with other manufacturers' parts or systems.
Noisy operation may be an issue in some residential areas.
Overall, the Cedarapids CRJ3042 Portable Jaw Crusher is an excellent choice for any application that requires a reliable, durable, and easy-to-operate machine. It offers great performance, quality, and affordability and can easily handle various materials. Its compact design allows it to fit into tight spaces and its adjustable jaw settings provide maximum versatility. With its simplicity of design, operation, and maintenance in mind, this machine will surely exceed your expectations.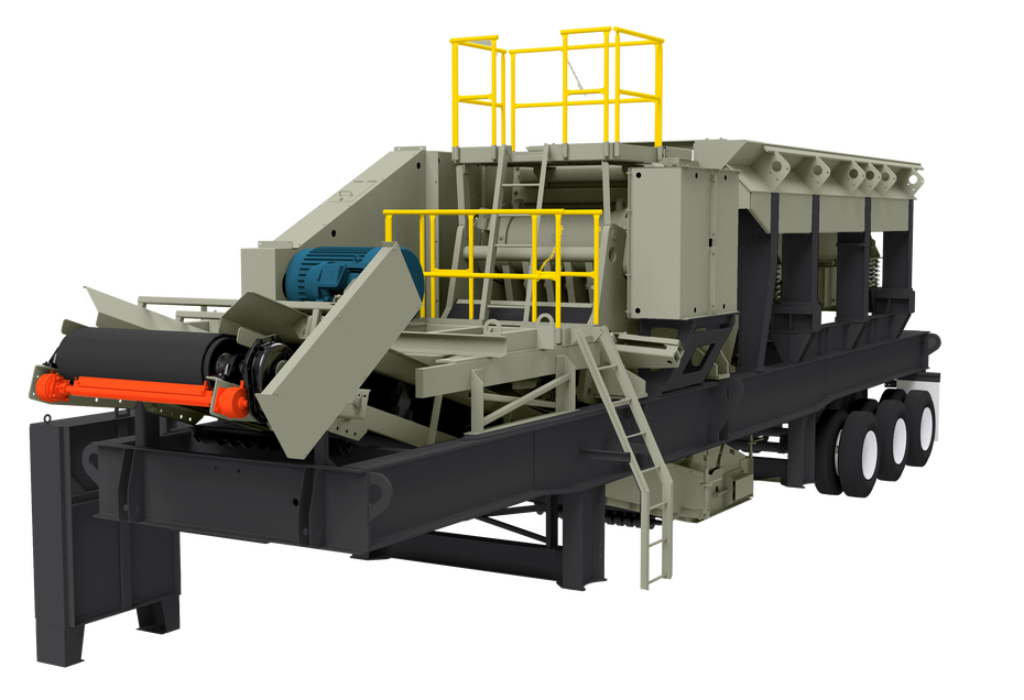 The Portable-Jaw-Plant CS2650 is an excellent choice for investing in a portable crusher. This plant's unique design allows users to quickly move it from one location to another, making it a great choice for contractors who need something that can be rapidly relocated.
In addition, the CS2650 offers high performance and excellent fuel efficiency, allowing operators to get more from their portable crusher without sacrificing quality or productivity.
The CS2650 also boasts an innovative jaw chamber design that allows users to adjust the size of their material feed in order to maximize output. Additionally, this machine has several safety features, such as an overload protection system and reversing fan option, which helps provide extra protection during operation. The integrated control system further enhances user convenience by providing easy access to essential operating parameters and maintenance functions.
Here are the primary advantages and disadvantages of this machinery to help contractors make an informed decision:
Positive
Has a high capacity for processing material.
It is easily transportable due to its compact size.
Has efficient, reliable engines for power output.
The feeder and crusher are both hydraulic-driven, providing better control and smoother operation.
Features intuitive, user-friendly controls making it easy to use and operate safely and efficiently.
Negatives
Relatively expensive compared to other portable crushers on the market.
Uses up more fuel than comparable stationary crushers due to its portability needs.
 It may require additional personnel to move it around, depending on the job requirements and conditions of the site area where it is being used.
Occasional maintenance may be required to keep machines running smoothly and efficiently – downtime that could be costly when trying to meet deadlines or production quotas.
Not as heavy-duty or durable as other larger stationary models.
Eventually, the Portable Jaw Plant CS2650 jaw crusher is an exceptional choice for mobile operations. It is easy to transport, can be quickly set up and taken down, and has a reliable design that allows producers to take advantage of the most out of their investments. This plant offers superior crushing performance, low operating costs, and high-efficiency operation, making it one of the best options on the market today.
LJ3048 Portable Jaw Crusher
Lippmann – #6 of the Best Portable Jaw Crushers
The industry-leading LJ3048 Portable Jaw Crusher is one of the best portable jaw crushers on the market today. This machine has been designed to provide maximum efficiency and versatility in a compact, easy-to-use package.
Thanks to its advanced engineering and construction, this jaw crusher offers superior performance and reliability, allowing you to work confidently. This machine can easily handle big jobs with a powerful motor and an oversized feeder bin. The adjustable discharge settings will enable you to set your desired output size while still maintaining maximum power output at all times.
This durable machine is built from rigid materials designed to last through years of hard use in the most demanding conditions. Its heavy-duty frame provides extra strength and stability during operation. At the same time, its large hopper capacity ensures that it can quickly process larger chunks of material without slowing down or stalling out.
Here is a glance at the main pros and cons of this machine:
Positive
Portable design makes transporting the jaw crusher to different job sites easy.
A large feed opening allows for maximal material intake and production output rate.
The 3048j-ew Portable Jaw Crusher is equipped with an extended main conveyor, allowing more considerable material to travel faster and more efficiently.
Its robust design allows it to efficiently handle difficult materials and reduce wear on components over time.
Can be equipped with an optional pre-screen system, allowing users to manage their feed materials better and increase productivity.
Negatives
Relatively expensive up-front cost compared to other portable jaw crusher models.
Requires a higher level of maintenance due to its moving parts and potential mechanical issues that may arise over time due to heavy use or wear/tear from improper usage or maintenance habits by personnel operating the unit.
Can be loud when operating, which may not be ideal for specific worksites or residential areas nearby.
Not as efficient in producing tiny particles as other crushers on the market.
In the end, despite a few minor downsides, the LJ3048 Portable Jaw Crusher is an effective and efficient machinery capable of delivering large amounts of production at a low cost. The advanced features and easy-to-use technology make it an attractive option for businesses looking to save time and money. Furthermore, with its high production levels, it can deliver quality output consistently. This reliable piece of equipment has already been successfully used by many companies in the industry and is sure to increase efficiency for many more.