Komplet Krokodile Overview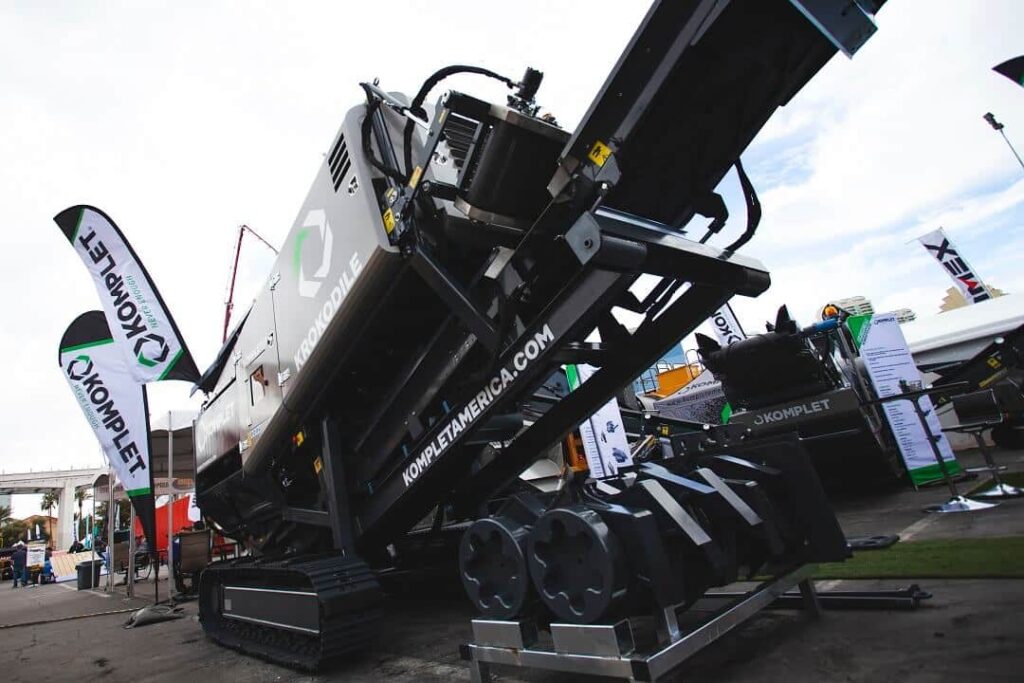 Komplet krokodile shredder is a powerful all-rounder machine that can shred even the most rigid materials such as wood, concrete, stone, etc. The Komplet shredder features a powerful engine while being extremely mobile. Thus, this enhances the Komplet krokodile to be efficient and economical.
This equipment is highly beneficial on worksites and can shred almost any material, including concrete, wood waste, tree stumps, etc. Krokodile has an output range of 3-¼ inch to 5-¾ inch and can reduce materials up to 50 inches or below in size for optimal efficiency.
Mobile Slow-Speed Shredder
Various Shredding Programs
The Komplet shredder's robust design and 220 horsepower diesel engine enhance its ability to shred material into small sizes. It also allows you to choose a control program depending on your feed material. Below are Komplet krokodile different shedding programs. 
C&D waste
C&D waste, otherwise called construction and demolition waste, is generated mainly in the construction industry during renovation, building, repairs, large structure construction, demolition, etc. This construction waste is challenging to dispose of because they contain hazardous components such as lead and asbestos. Fortunately, the Komplet krokodile shredder has a shaft explicitly designed for C&D waste to process efficiently. 
Wood
Wood is a common waste, especially on construction sites. Krokodile is equipped with a shaft designed to shred wood waste in the shredder. Thus, this makes it easier to recycle and reuse the wood waste onsite. Like most C&D waste, the Komplet krokodile shredder can produce up to 175 US tonnes of shredded wood per hour.
Waste
Similar to the specifically designed shaft for C&D waste, the waste shredding program has a specific shaft to reduce waste materials' size. As such, you can process waste items such as paper, palm trees, and tree stumps for other benefits. It is important to note that the equipment is designed to produce a maximum output of 18 US tph in this shredding program. 
Synchro – Asynchro Mood
This shredding program deals with the control of equipment. As such, it can be set to the synchro mood, meaning that several operations are happening simultaneously. In contrast, asynchro is limited to operating according to the signals being received and is not carried out in synchronization. 
Customized
You can customize the Komplet krokodile shredding program. So, if you need a specific output material size from your waste, you can set the equipment according to your needs to get your desired material size.
Komplet Krokodile Mobile Slow-Speed Shredder
Pros and Cons
No equipment is 100 percent, and every design has advantages and disadvantages. Let's look at some pros and cons of the Komplet krokodile.
Positive
MobilityKomplet krokodile is a mobile shredder; thus, they are self-powered and easy to operate on the site. It is powered by a diesel engine and features a track-driven design that enables easy movement of the shredder from site to site or different locations.
EconomicalThe Komplet krokodile shredder isn't only powerful and flexible, but it is also economical. You can easily shred your waste onsite and save the cost of moving your waste to and fro a stationary shredder. The mobile krokodile is also a piece of affordable equipment to purchase. 
Good PerformanceThe mobile shredder can shred different materials and has various shredding programs to shred each type of waste. Moreover, the powerful engine allows it to produce an output range from 3-¼ inch to 5-¾ inch at a rate of 200 tons per hour.
Negatives
Reduced Efficiency
The diesel-powered engine of the krokodile shredder is powerful. Still, it has its limitations. For example, the efficiency of the Komplet shredder is much lower than that of a stationary electrically driven shredder. Plus, the cost of purchasing diesel can increase the operating cost of the equipment. 
Komplet Krokodile Mobile Shredder
Specification for Screener
| SPEC | |
| --- | --- |
| Warranty | 12 months / 1000 hours |
| Engine Type | Volvo Stage 4 |
| Engine Horsepower | 220 hp |
| Shaft Size | 60″ |
| Working Size (L ✕ W ✕ H) | 27'6″ ✕ 7'3″ ✕ 12′ |
| Transport Size (L ✕ W ✕ H) | 23'7″ ✕ 7'3″ ✕ 7'5″ |
| Weight | 34,000 lbs |
| Maximum output | 200 tons per hour |
| Drive | D |
| Plant type | KU |
Slow-Speed Shredder Details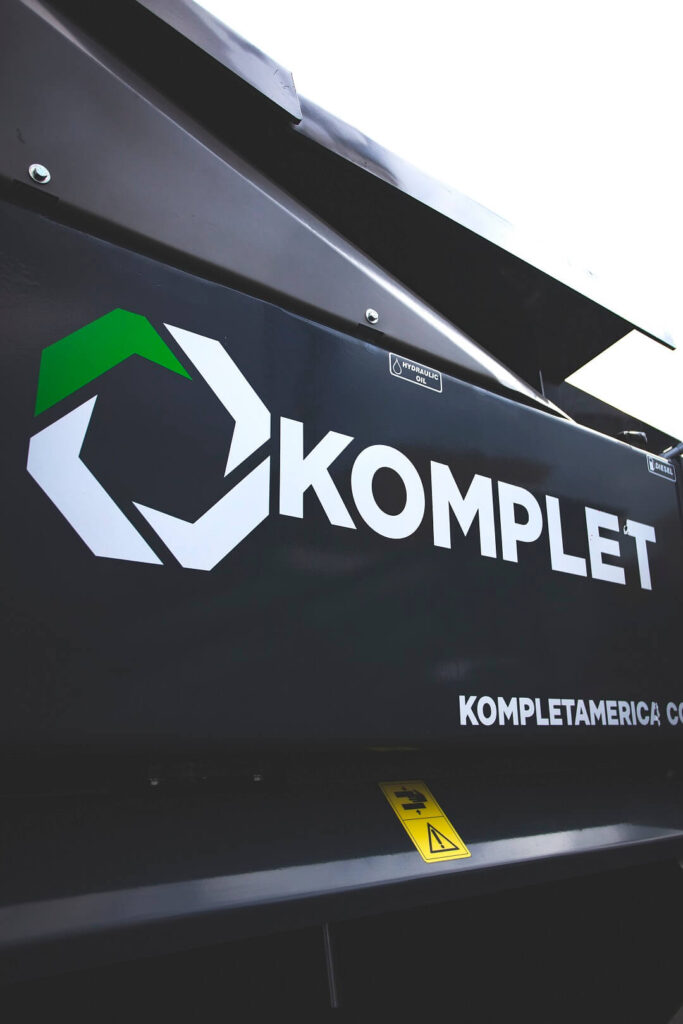 Komplet Mobile Slow-Speed Shredder
Key Features & Options
The auto reverse function helps product cutting tools.
Remote controlled system.
Short set-up time.
Tracks & Skip Hook provide exceptional maneuverability.
Possibility to work with damp material.
Fast Shaft changing system.
Complete radio remote control functionality allows for one-person operation.
It has various shredding programs.
Tilting Rear hopper designed for optimum material feed.
Hydraulic open system for side grid.
Low-wear part maintenance.
Komplet Slow-Speed Shredder
Working Principle and Application
The principle of the Komplet krokodile shredder is similar to every mobile shredder. The shredder features a tilting rear hopper identical to a dump truck but can tilt for easier material feeding. As such, the rear hopper, which you can operate with the equipment's intuitive buttons or remote, can easily dump its contents into the shredder. Thus, no manual handling is required.
Komplet krokodile can be set to the preferred shredding program depending on the waste and has a fast shaft changing system to help you get your desired shredded material size. The mobile shredder is applicable in several industries due to its versatility. You can use it in construction, agriculture, masonry, and even to shred home waste.
Komplet Krokodile Mobile Slow-Speed Shredder
User-friendly and Safe
The mobile Komplet shredder, krokodile, is generally safe and easy to use. Equipped with complete radio remote control functionality that enables easy control, it is easy and fast to set up. It is also relatively safe to use and maintain with an open hydraulic system for the side grid, which makes it easier to access the system for maintenance and repairs. 
Komplet Krokodile Mobile Shredder
Low Weight and Maximum Productivity
Krokodile, with a weight of about 14 tonnes, has a relatively low weight to similar equipment. The compact size and low weight of the Komplet shredder are responsible for its easy mobility from site to site. It also has a container hook system which adds to this effect.
Still, the krokodile is efficient and can produce up to 200 tons per hour, depending on the material being processed. For instance, it can produce up to 150 tph of construction and demolition waste and 15 tph of waste.

Add your rating
Summary 
Komplet krokodile mobile slow-speed shredder is a high performing shredder. It can handle different waste, and it's equipped with tracks to enable easy mobility on site. In addition, the equipment can work with damp, wet, or dry materials and is fitted with low-wear parts to enhance its longevity.

Komplet Krokodile Mobile Slow-Speed Shredder