Bison 120 Crusher Overview
The Bison 120 Crusher is a powerful and compact jaw crusher designed for mining, quarrying, and recycling operators. This versatile machine is equipped with an independent pre-screen, side conveyor, and magnet to provide users with the best possible efficiency. With its user-friendly design, the Bison 120 Crusher maximizes the output of high-quality material and minimizes downtime for maintenance.
This robust crusher can handle a variety of materials such as granite, limestone, and asphalt and processes up to 200 tonnes per hour. The Bison 120 Crusher has an operating weight of 25 tonnes, making it suitable for small to mid-sized operations while still providing excellent performance. It also features a heavy-duty hopper to increase productivity by improving material flow onto the vibrating feeder.
Bison 120
Pros and Cons
Positive
It is a heavy-duty and versatile crusher, capable of crushing up to 120 tons per hour.
Its high-powered motor provides efficient operation and uniform particle size.
It has a reversible direction for optimal material flow and reduced jams.
The crusher is manufactured from durable materials, making it suitable for long-term use in harsh conditions.
It has an intuitive control panel with easy-to-understand settings for quick set-up and operation.
Negatives
The Bison 120 Crusher requires frequent maintenance due to its complex design and mechanics.
The machine is quite expensive compared to other similar models on the market.
Its weight makes it difficult to transport or move around a work site without proper lifting equipment or assistance.
The crusher may be too large for some operations, making it impractical or inefficient in certain applications where space is limited or restricted.
Bison 120 Crusher
Specification for Jaw Crusher
The Bison 120 Crusher is a highly efficient and durable rock crusher that can handle a wide range of materials. It has the following specifications: 
SPEC
HOPPER / FEEDER
2.3m3
(3yd3
) Hopper capacity
Grizzly feeder as standard
30mm (1-1/4") Nominal spacing grizzly
JAW CRUSHER
680mm x 400mm (27" x 16") Jaw Inlet
CSS Range: 20mm to 80mm (3/4" to 3-1/4")
Hydraulic Jaw adjustment
POWERUNIT
Tier 3: 61kW/ 83Hp engine
Tier 4: Final: Stage IIIB 52kW/70Hp Isuzu engine
Hydraulic drive crusher
OUTPUT POTENTIAL
Up to 80tph / 90 US tph
GENERAL
Jaw level sensor as standard and remote control as standard
Weight:
12,000Kgs (26,455lbs)
Bison 120
Jaw Crusher Features
The Bison 120 Crusher is a versatile and powerful rock-crushing machine designed for the toughest applications. Featuring an intuitive control system and sturdy construction, the Bison 120 Crusher is able to crush material quickly and efficiently. With a large hopper feed size, it offers plenty of room for materials of all sizes, making it the ideal choice for any serious contractor or landscaping professional.
Compared to other crushers in its class, the Bison 120 Crusher stands out from the crowd with a range of innovative features that make it easier to manage your construction needs. Its unique rotary-feeder system ensures that material is constantly fed into the unit at an optimal rate. At the same time, its exclusive jaw plate design provides maximum strength when crushing hard materials. Finally, its adjustable speed setting allows you to tailor output according to the job.
Bison 120 Rock Crusher
Jaw Crusher Working Principle
The Bison 120 Crusher is a powerful machine designed to crush concrete, asphalt, and bricks. The crusher works on the principle of using two rotating jaws to crush the material between them. This process reduces the size of the material for easy transport and further processing.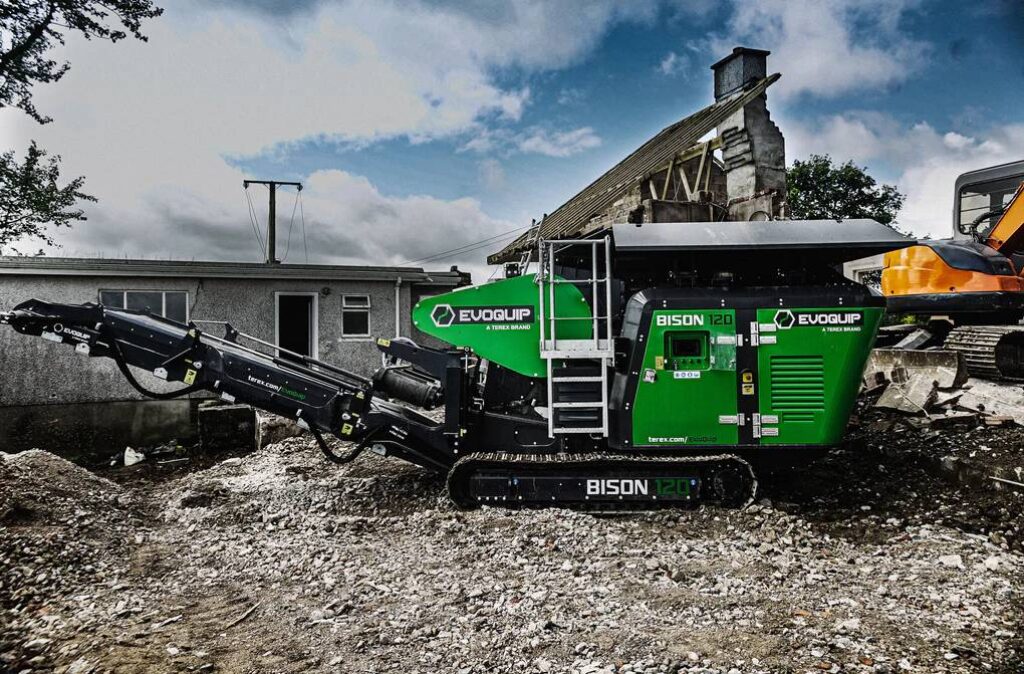 The Bison 120 Crusher features an independent pre-screen system that allows users to separate their desired output size from oversized material. It also includes a heavy-duty vibrating feeder that removes excess fines from the material before it enters the crushing chamber. The machine is powered by a reliable Caterpillar engine. It has been designed with safety in mind – including hydraulic overload protection to ensure maximum operational life and minimum downtime during maintenance operations. In addition, its unique design allows easy access to all machine parts for quick cleaning or replacement if required.
Bison 120 Rock Crusher
User-friendly and Safe 
The Bison 120 Crusher is being hailed as a revolutionary product for the demolition, quarrying, and mining industries. This user-friendly and safe machine has been designed to provide enhanced safety features, increased performance, and improved usability. As well as its innovative mechanical design, it also includes several cutting-edge features that make it easier for operators to use and maintain.
Designed with operator safety in mind first and foremost, the Bison 120 Crusher incorporates a range of protective guards on both sides of the crusher that are easily adjustable for size changes without having to remove them. The standard discharge height can be adjusted up or down depending on the job requirements, which helps reduce unnecessary steps during set-up time. The crusher's automated dust suppression system helps prevent material from escaping into the air while crushing operations are taking place.
Bison 120 Rock Crusher
Compact Design and High Workload
The Bison 120 Crusher appears to be a compact, versatile machine that offers superior performance and reliability in various crushing applications. It stands out from other crushers due to its unique design and high workload capabilities. With its robust construction, the Bison 120 Crusher is designed to handle even the toughest materials efficiently.
The Bison 120 Crusher features an adjustable jaw width of up to 50 inches, allowing it to meet many material sizes and shapes. Its robust construction enables it to tackle high-volume jobs while providing precision-crushing results. The unit also features a hydraulic power pack for easy positioning, as well as overload protection for added safety and security against overloads. Thanks to its small size, the Bison 120 Crusher is ideal for tight spaces where larger machines cannot fit.
RR 7000 Rock Crusher
Summary 
The Bison 120 Crusher has become one of the most popular crushers on the market, and it's easy to see why. With an impressive user score of 4.2 out of 5 stars, this machine is a clear winner, according to customers. Its design allows for efficient and effective crushing with minimal effort, while its robust construction ensures long-term durability. Editors have also given it high marks, praising its ease of use and value for money in their reviews. Additionally, its low fuel consumption makes it highly economical to use over time. All in all, the Bison 120 Crusher appears to be a reliable choice for anyone looking for powerful performance at an affordable price point.