K-JC704 Overview
K-JC704 Mobile Jaw Crusher works well as a piece of equipment to break down large amounts of materials into smaller aggregates because of its ease of transportation and effectiveness. It is designed to crush every hardness into smaller pieces, no matter the level. This model has no lag during the crushing and removal process.
Also, it is solid and sturdy enough to withstand challenging applications. Its portable size makes it easy to be carried in a dump truck to site locations. The output size, between 3/4 to 3- 1/4, is built to churn out 90 tons of materials in an hour. If you are looking for an ideal jaw crusher fast in excavation, the K-JC704 model is the perfect jaw crusher you should have.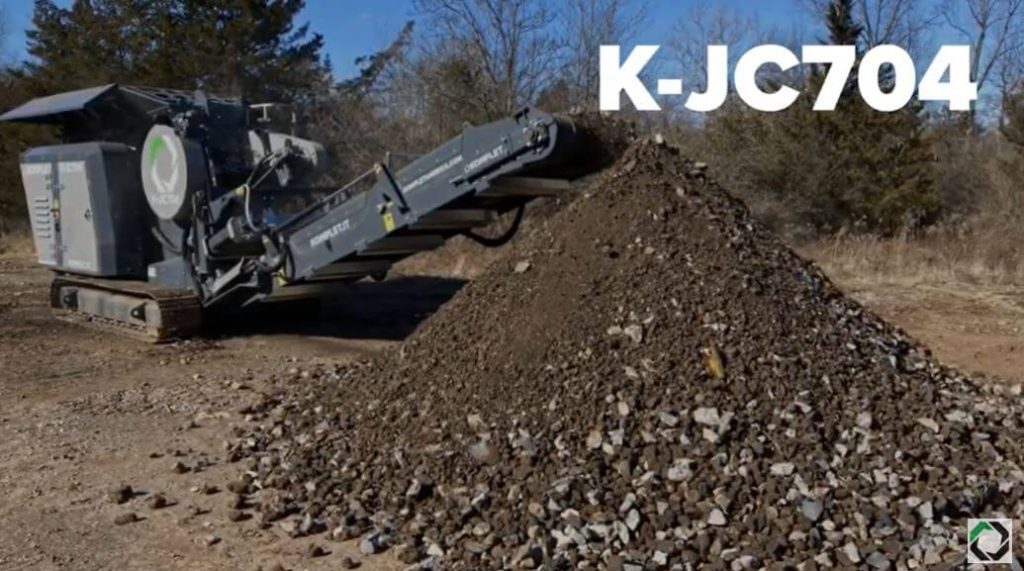 K-JC704 Mobile Jaw Crusher
Pros and Cons
Positive
They are not expensive to purchase
The design, structure, and mode of operation are simple to understand
It's a small-sized machine that is movable
Requires lesser maintenance processes
It's always easy to replace the broken/damaged parts of the jaw crusher
No downtime and high productivity
Consumes less fuel
Negatives
Severe injuries can come from the tiny materials flying out of the jaws
It doesn't produce particles of the same size
It makes enormous vibrations during work
K-JC704 Mobile Jaw Crusher
Specification for Jaw Crusher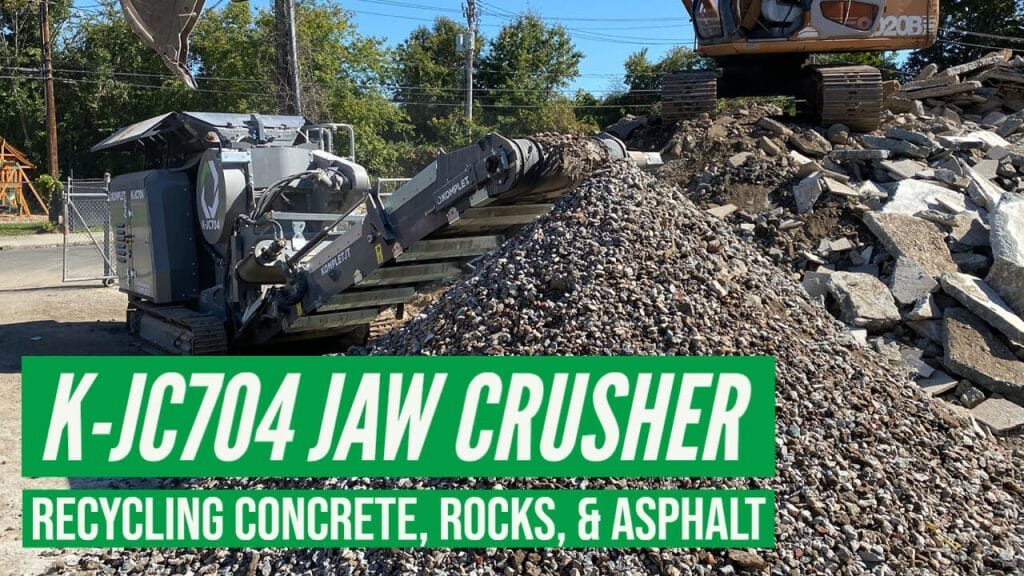 | SPEC | |
| --- | --- |
| Engine Type | Doosan Tier 4 Final |
| Engine Horsepower | 74 hp |
| Jaw Size | 27′ X 16′ |
| Mobile Crusher Weight | 26,455 lbs |
| Transport Size | 18'1″ X 7'3″ X 8'1″ (L X W X H) |
| Working Size | 28'7″ X 7'3″ X 8'1″ (L X W X H) |
| Output Size | 3/4 to 3- 1/4 |
| Production Output | 90 tons per Hour |
K-JC704
Jaw Crusher Features
Portable size for easy use and transportation 
Adjustable Hydraulic side jaw settings
Drive Crusher
Single toggle jaw
Easy and Automatic operations
Easy set-up
Reverse Jaw function that can be applied in cleaning up a blockage
Chamber Level Sensor to control the material stuffed into the machine
K-JC704 Mobile Crusher
Jaw Crusher Working Principle
The K-JC704 Mobile crusher is used to break down materials into tinier sizes. To start with, the material is introduced in between the fixed jaw and the moveable jaw. The fixed jaw keeps the material in place, so it doesn't fall off due to vibration. In contrast, the moveable jaw makes a continuous forward and backward movement that produces the required pressure and vibration to break down the materials.
These two jaws are at a reasonable angle to each other to give enough room between them that contain the materials perfectly. Among the parts of the Jaw Crusher is the pitman that is directly attached to the flywheel. Once the machine is started, the motor sends a signal to the pitman, which in turn reacts to the force signal produced by the motor by transferring the force to the flywheel. The power produced in the flywheel is transferred to the shaft. Directly connected to the shaft is the moveable jaw, which starts to move forward and backward. The materials are broken down as soon as the force of compression is generated in the jaws.
When using this Mobile crusher, one thing you should know is that as the machine starts to vibrate, there is a propensity for tiny particles to fly out of the crusher. These small particles can cause injury to the persons standing nearby, so there is a need to put in some safety measures. It is advised that a protective covering is placed between the machine opening in front of the jaws to limit the rate at which these tiny particles fly out.
K-JC704 Jaw Crusher
User-friendly and Safe 
The K-JC704 Mobile Jaw Crusher has proven to be heavy-duty moveable equipment that can be used anywhere in the world in all climates. K-JC704 Mobile crusher is a user-friendly, high-performance- based crusher. It's safe and easy to use with little or no operator involvement.
The Crusher incorporates an intelligence system to operate the machine. So, customers should expect a simple and hassle-free operation. The crusher also has an integrated control system that constantly monitors the intelligence system to ensure better productivity.
The K-JC704 Mobile crusher operates with one adjustable toggle jaw crusher of 27″ x 16″, ensuring efficient particle breakdown and operation. The Mobile Jaw Crusher provides high proficiency in production by using an adjustable hydraulic setting at the side to manage all the changes in the push button performance.
K-JC704 is easy to set up from scratch. The impact area is well-lined to reduce wear and tear, reduce downtime, and keep the noise at the bare minimum.
Small Rock Crusher K-JC704
Compact Design & Workload
K-JC704 Mobile jaw crusher is employed in excavation. It is best used for crushing rocks and other rigid materials like granite, asphalt, and recycled concrete. It is made for anyone who desires a high-performance machine that is strong, efficient, and moveable. The machine's components are made of a single toggle jaw where the material is kept and crushed.
This Jaw crusher is made of a compact design. Unlike the traditional static crushers, this portable-sized crusher can be conveniently moved from one location to another. The crusher can accommodate a very high workload and perform different tasks with the help of adjustable hydraulic side settings. The Mobile crusher is efficient in breaking down tough materials like asphalt, granite, limestone, and other rock types. Materials can be broken down into different sizes on the go.
The manufacturers use a simple and automatic technology that requires low maintenance, and the parts are easily replaced in the case of a breakdown. The crusher can be regulated with little input from the operator and with the least expertise.
Rock Crusher K-JC704
Summary 
K-JC704 Mobile Jaw Crusher is a total blend of portability, Mobile, and highly efficient Mobile Jaw Crusher you can get from the Komplet machinery nowadays. The crushers are used to break down big particles into aggregates of various sizes. K-JC704 works well in crushing rock types of different hardness levels and fits well in mining and recycling. Its compact size is a plus as operators can easily transport it in a truck to the designated location. So if you are looking for a Mobile crusher that can break down rigid materials easily, then K-CJ704 is what you need to get started.

K-JC704 Mobile Jaw Crusher