Kompatto 104 Overview
Have you ever encountered problems while attempting to process building materials on your job site? We have developed a workable and affordable solution for small- to medium-sized operators and contractors. The Kompatto 104 is a reasonably priced entry-level screen best suited for small to medium-sized operators and contractors who need a flexible product capable of operating in several applications, including sand and gravel, aggregates, and recycling.
This screener is appropriate for various uses because it can process up to 220 tons per hour. Benefit from the high-performance double deck screen box's quick setup time, two hydraulically folding stockpile conveyors, and easy operation. Contact us to learn how the Kompatto 104 could increase efficiency on the job site while decreasing waste on your upcoming project.
Kompatto 104 Compact Screener
Pros and Cons
Positive
Rubber treads and a wireless remote control allow the small mobile jaw crusher to transport and crush recycled concrete locally.
A hydraulically adjustable single toggle jaw crusher is part of the Kompatto 104 Compact Screener. The jaw crusher has a moving jaw, a wide, deep input aperture for large input volumes, and a constant discharge opening width for the consistently sized product. It has an uncomplicated design that is made to be dependable, reasonably priced, and easy to use. 
The Kompatto 104 portable jaw crusher can transport and crush concrete on the job site, allowing you to complete more tasks for less money. A contractor can thus save money on excavation and waste removal. The Kompatto 104 Compact Screener also makes it simple to convert crushed waste into a byproduct that a contractor can recycle on the job site.
Negatives
The lower crushing ratio of the Kompatto 104 Compact Screener is comparable to that of all jaw crushers. In contrast to its sister, the K-JC 704 has a production capacity of up to 200 tons per hour, producing 3/4″ to 3-1/4″. The Kompatto 104 Compact Screener can only produce this size at a rate of 20 to 25 metric tons per hour. 
Kompatto 104 Compact Screening Machine
Specification for Compact Screener
| SPEC | |
| --- | --- |
| Warranty | 12 months / 1000 hours |
| Engine Type | Doosan Tier 4 Final |
| Engine Horsepower | 25 hp |
| Screen Size | 9'9″ ✕ 4′ |
| Working Size (L ✕ W ✕ H) | 25'9″ ✕ 23'6″ ✕ 10'2″ |
| Transport Size (L ✕ W ✕ H) | 25'5″ ✕ 7'3″ ✕ 9'8″ |
| Weight | 17,636 lbs |
Kompatto 104 Compact Screener
Features Vibrating Screening Machine
The prime features of this vibrating screening machine include: 
It has an adjustable speed feeder and straightforward installation.
A removable screening grid can be used before the crusher and a Grid for post-crushing screening.
It has a sliding jaw that retracts and extends.
Conveyors on it can be hydraulically folded, and its hydraulic jaw can be adjusted to fit a range of end-product sizes.
Changeable jaw plates are available for the small jaw crusher.
A radio remote with wireless capabilities is used to operate the entire feature set of the jaw crusher.
Depending on the feed size, mesh, and material type, the capacity can reach 250 tph.
It takes less time to set up and has button actions that are simple and obvious.
The product has a 12-month/1000-hour warranty.
Compact Kompatto 104
Working Principle and Application
These primary crushers, also called rock breakers, have been used for almost 100 years. Jaw crushers use compression to break down materials. They are primarily employed in the initial stages of breaking up hard stones and demolishing construction sites. They frequently have two jaws for crushing, one fixed and the other not. The fixed jaw holds the object while force is applied, and the crushing jaws produce the mechanical pressure necessary to crush these materials. They can efficiently break down even the toughest materials into smaller quantities that can be recycled more quickly. The moveable jaw compresses the material by rotating 250– 300 times per minute.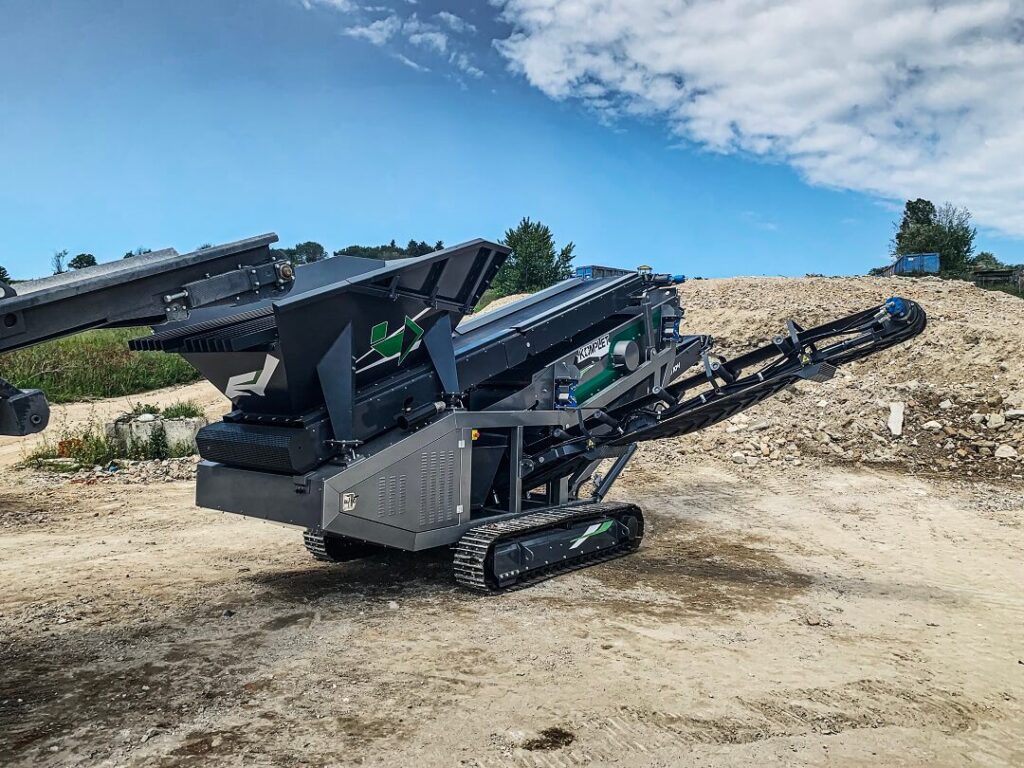 The materials are thrown off and crushed by these two V-shaped crushing jaws. The 'V-shaped aperture has a wide opening that descends to the output gap, determining the crushed output size. It is referred to as the "crushing chamber." The crushed materials are held in the jaw until they pass through the designated gap.
Compact Screener Kompatto 104
User-friendly and Safe
Jaw crushers can process many materials in the mining, quarrying, demolition, and chemical industries. Therefore, it's crucial to emphasize how dangerous bad equipment management is. The risks associated with using a mobile crusher vary depending on the industry, but some of the most frequent risks associated with operating a jaw crusher are as follows:
A poorly planned operation
The vibration in the entire body
Jammed or obstructed jaw crushers
Stumbles or drops.
According to the Health and Safety Executive's recommendations for the safe use of mobile jaw crushers, the user of this equipment may be exposed to risks like being hit by objects thrown from the crusher, dust, noise, and other dangers.
Even though using the Kompatto 104 Compact Screener is straightforward, it is essential to follow safety precautions to maintain its security. Here are some pointers to help you stay organized and productive.
Regular inspections and maintenance are required.
Always wear a safety belt and eye protection.
Instruct and get the crusher operator ready.
Before using any apparatus, you should always inspect or replace the guard.
Follow the manufacturer's instructions for load and feed control.
Screener Kompatto 104
Compact Design and High Workload
The compact design of the Kompatto 104 jaw crusher makes it efficient in small spaces while still performing a quick and difficult task. For instance, the Kompatto 104 Compact Screener has a capacity of 250 US TPH.

Kompatto 104 Compact Screener