K-JC503 Overview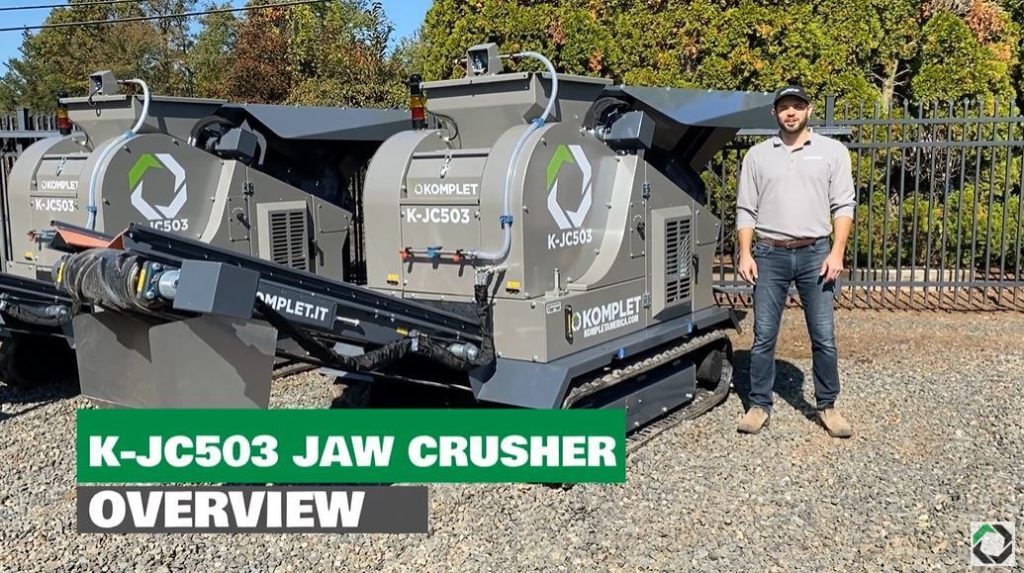 K-JC503 is Komplet most compact mobile jaw crusher. Equipped with tracks and a radio remote control, it is the perfect crushing machine for construction companies and workers who want to demolish and recycle construction waste on sites. In addition to the equipment's ability to crush large demolished stones, it is also equipped with tracks for easy mobility and an output of up to 34 US tph.
Not only is this mobile crusher equipped to crush any hard, brittle materials, including paving, landscaping or demolition waste, concrete, stones, etc. The 19-inch x 10-inch portable jaw crusher accepts materials from 8 to 12 inches with an output size as small as 3/4 inches.
K-JC503 Mobile Mini Jaw Crusher
Pros and Cons
Jaw Crushers are generally smaller in size in comparison to other crushers. Thus, they are ideal for smaller and tight spaces and can handle different types of material, including hard and soft ones. Still, the K-JC503 has several other advantages and disadvantages.
Positive
Simple Structure. The Komplet K-JC503 is a mobile mini crusher with a hydraulically adjustable 19″ x 10″ single toggle jaw crusher. It has a simple structure designed for ease of use, cost-effectiveness, and reliable operation. The jaw crusher features a moveable jaw, a large and deep opening that enables large feed, and a constant discharge opening width that produces uniform-sized particles.
Easy Mobility. The mini mobile jaw crusher is equipped with wireless remote control and rubber tracks, making it easy for the equipment to be mobile on-site while crushing and transporting recycled concrete.
Low Manufacturing. CostK-JC503 portable jaw crusher creates an opportunity to do more and save more money. Here's due to the ability to crush and move crushed concrete from the site with this equipment. Thus, a contractor can save money on excavation and waste removal. In addition, with the Komplet K-JC503, one could easily convert the crushed waste to a byproduct that a contractor could repurpose onsite.
Negatives
Small Crushing Ratio. The Komplet K-JC503, like all jaw crushers, has a smaller crushing ratio. However, unlike its counterpart, the K-JC 704, which has an output size of 3/4″ to 3-1/4″ at a rate of up to 90 tons per hour. K-JC503 can only give this output size at a rate of 30 or 34 US tons per hour.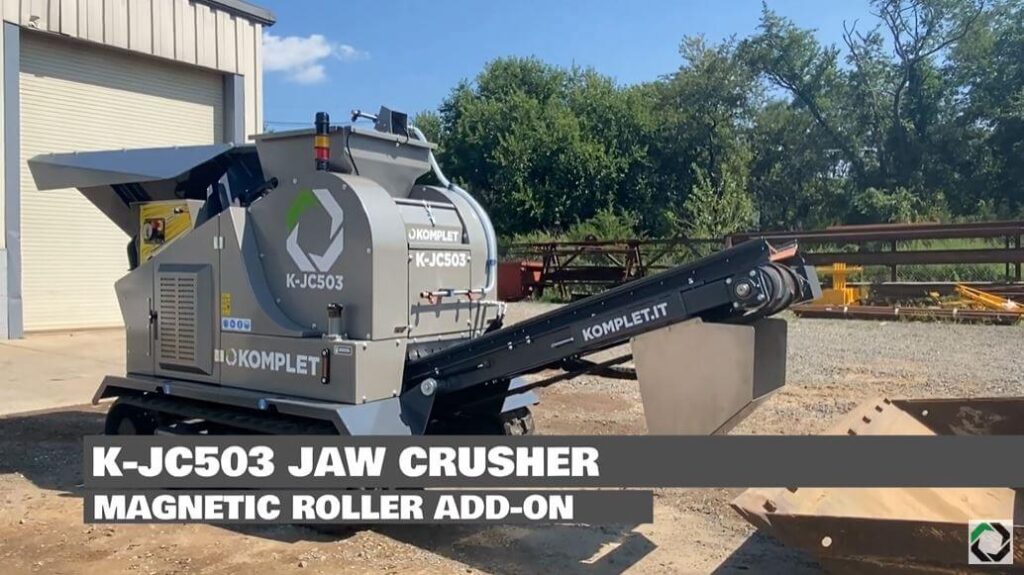 K-JC503 Mobile Mini Jaw Crusher
Specification for Mobile Mini Jaw Crusher
| SPEC | |
| --- | --- |
| Warranty | 12 months / 1000 hours |
| Engine Type | 25 HP Diesel Engine |
| Jaw Size | 19″ X 10″ |
| Output Size | 3/4″ to 3-1/4″ |
| Production | up to 34 TPH |
| Weight | 7,496 LBS |
| Working Size (L ✕ W ✕ H) | 14'11" ✕ 4'9″ ✕ 6'5″ |
| Transport Size (L ✕ W ✕ H) | 10'11" ✕ 4'9″ ✕ 7'1″ |
K-JC503
Mini Jaw Crusher Features
You can set up k-JC 503 quickly in less than 15 minutes. 
 It is equipped with a movable jaw that executes reciprocating motion.
 The mini Jaw crusher features two reversible jaw plates. 
 It has a large opening that enables a large feed.
 K-JC 503 is equipped with rubber tracks for easy mobility on site. 
 The jaw crusher has a radio remote control for all functions.
 It is equipped with an adjustable hydraulic jaw for different end-product sizes. 
 It features a direct drive chamber. 
 The equipment has a warranty of 12 months / 1000 hours.Sample Item
K-JC503 Mobile Crusher
Jaw Crusher Working Principle
These rock breakers have been around for nearly 200 years and are known as primary crushers. They are used almost exclusively for the first stage of crushing hard stones and demolishing construction sites. This is major because they can efficiently break down different types of material, including the hardest ones, into more manageable sizes for easy processing into recyclable materials.
Jaw Crushers use the compression style to break down materials. Typically, they have two crushing jaws – one is stationary, and the other isn't. These crushing jaws produce the mechanical pressure for crushing these materials, with the stationery jaw holding the material in place while force is exerted on it. The moveable jaw moves around 250 to 400 times per minute to subject the material to compression.
These two crushing jaws mounted in a V-shaped alignment are where the materials are dropped off. It is called the crushing chamber. Here, the opening is similar to a 'V' with a wide opening down to the output gap responsible for the crushed output size. The crushed materials remain in the jaw until it can pass through the set gap.
K-JC503 Mobile Mini Jaw Crusher
User-friendly and Safe 
Jaw Crushers can handle different materials used in various industries, mining, quarrying, demolition sites, and chemical industries. Therefore, it is vital to discuss how dangerous improper handling of this equipment is. The Health and Safety Executive's guidance for the safe operation of mobile jaw crushers reported that this equipment user might be at risk of exposure to being struck by materials ejected from the crusher, dust, noise, etc.
As such, despite the E-JC 503 being user-friendly, it is imperative to pay attention to safety guidelines to ensure it's safe to use. Risks of using a mobile crusher are mostly dependent on the industry, but some of the common risks of operating a jaw crusher include:
Slips or falls.
Machinery guarding.
Poorly planned operation
Clearing blocked or stuck jaw crushers.
Whole body vibration.
Here are some simple tips to ensure a smooth and efficient operation.
Train and instruct the crushers driver.
Follow the manufacturer's recommendation on loads and feed control.
Regular inspection and maintenance.
Wear a safety belt and glass at all times.
Always check or replace the machinery guard before use.
Small Rock Crusher K-JC503
Compact Design & High Workload
Komplet jaw crusher has a compact design feature that can be effective in tight and small work areas and provide a fast and high workload. For example, the K-JC 503 can achieve a 34 US tph output.
Rock Crusher K-JC503
Summary 
The Komplet is a good, efficient, time-saving, and money-saving equipment for contractors who want to demolish and recycle the waste into reusable material on site. Not only does this equipment has a fair output rate, but it also has a perfect size, height, and design that aids mobility. In addition, this crusher can be used in nearly all industries making it highly versatile.

K-JC503 Mobile Mini Jaw Crusher