Slow-Speed Shredder
HAMMEL VB 650 Overview
This versatile device has the ability to tear through asphalt, wood, and other construction materials with ease. It also has an optional conveyor belt that helps speed up the process by continuously moving the shredded material toward the disposal area. The HANEMANN VB 650 construction and demolition shredder is perfect for businesses that need quick and efficient debris disposal.
HAMMEL VB 650 Slow-Speed Shredder
Pros and Cons
The HAMMEL VB 650 is a powerful shredder that can handle a variety of materials on demolition and construction sites. Here are some of the pros and cons of this versatile machine:
Positive
This shredder is capable of handling a wide range of material types. It's perfect for those who need to dispose of large waste quickly and easily.
The VB 650 features strong cutting power that helps it effortlessly break down even rigid materials like asphalt.
It has an easy-to-use touchscreen interface that makes operation straightforward. Several safety features are also built into the machine that protects users from injury.
Very easy to operate – just put the material in the hopper, press a button and start shredding.
The automatic feeder makes it easier to keep up with demand.
Negatives
Because this shredder is so powerful, it cannot be quiet when in use. 
It takes up a lot of space – not ideal for small offices or homes but ideal for more significant buildings or warehouses.
HAMMEL VB 650 Shredder
Specification for Screener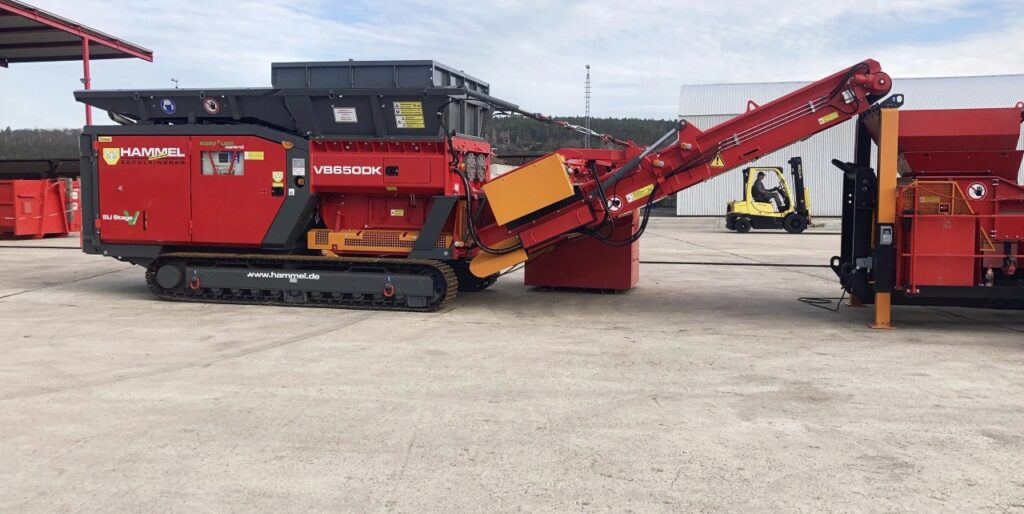 The HAMMEL VB650 shredder is a universal and essential machine for multiple construction projects. This powerful machine has a large cutting capacity (up to 650 pounds per minute) and is easy to utilize. It also comes with several safety features that make it safe to operate.
Here are some of the specifications of the HAMMEL VB650 shredder:
SPEC
Number of shafts
double-shaft
Application
for wood, metal, paper, for household waste
Other characteristics
mobile
Power
180,000 W, 205,067 W
Output
Min.: 7 t/h (4 lb/s)
Max.: 30 t/h (18 lb/s)
Machine Length
9,413 mm (371 in)
Machine Height
4,678 mm (184 in)
HAMMEL VB 650 Slow-Speed Shredder
Key Features & Options
The HAMMEL VB 650 is a durable shredder that can handle all construction and demolition debris. This machine has a cutting width of up to 640mm, an electronic overload protection system, and dust extraction capabilities. It also features a mobile processing unit for quick and easy transport.
This shredder is perfect for businesses that need to dispose of large amounts of construction and demolition debris quickly and efficiently. Its wide cutting width makes it easily cut through heavy materials like metal sheets or lumber. Plus, its dust extraction system helps remove all the unwanted dust particles from the shredded material so you can avoid environmental pollution problems.
HAMMEL VB 650 Shredder
Working Principle and Application
The HAMMEL VB 650 shredder is a reliable machine that can be used for various purposes, such as construction and demolition. The shredder's working principle is simple: it slices through paper or other materials with sharp blades to create small pieces that can easily be disposed of.
This versatile machine is perfect for businesses needing to dispose of unwanted debris quickly. It also has several safety features built-in, including an emergency stop button and an automatic blade separation system. Apart from that, the Hammel VB 650 is easy to operate – even non-technical users can take advantage of its capabilities within minutes.
So why choose the HAMMEL VB 650 over other constructions-and-demolition shredders? Because it's perfect for people who need an efficient, reliable machine that can handle a wide range of materials swiftly and safely – without all the hassle.
HAMMEL VB 650
User-friendly and Safe
The HAMMEL VB 650 shredder is a durable and user-friendly piece of construction equipment that can cope with the toughest construction and demolition jobs. This reliable shredder features a cutting-edge design that makes it easy to operate, even for beginners. And its safety features make it safe to use in any environment.
This shredded paper machine is suitable for businesses of all sizes that need an efficient way to destroy confidential information. Its large feed capacity means you won't have to wait long for your debris to be eliminated, and its intuitive controls make operating it simple. Whether in the construction or demolition industry, the HAMMEL VB650 should be on your list of options.
HAMMEL VB 650
Low Weight and Maximum Productivity
The HAMMEL VB 650 shredder is designed for construction and demolition projects. It has a compact design that makes it easy to transport and set up, and a high workload capacity ensures efficiency throughout the project.
This powerful shredder can deal with everything from paper to metal sheets, easily reducing the time and resources needed to complete the task. Its large feed slot means you won't have to wait long for your materials to be shredded. Besides, the automatic cut-off system prevents accidents while the machine is in use, so you can focus on your job without worrying about pesky messes.
This shredder is also very affordable, making it an ideal choice for small businesses that need to take on larger projects. If you are looking for a reliable shredder that can handle large volumes of wood, paper, or concrete fast, then the HAMMEL VB 650 should be at the top of your list!
Add your rating
Summary 
The HAMMEL VB 650 is a popular shredder for construction and demolition. Many user's and Editor's scores have been posted, so exploring what people like and don't like about this machine is helpful.
Some users appreciate that the HAMMEL VB 650 has a large feed capacity. Others find that the machine is too loud and needs constant adjustment to stay accurate. Some editors complain about poor cutting performance; however, others say this shredder does an excellent job of destroying sensitive documents. Overall, there are many positive reviews for the HAMMEL VB 650, but some complaints about its accuracy and noise level stand out.

HAMMEL VB 650 Slow-Speed Shredder